For those of you who don't know our master plan – Knut and I are planning to start driving the pan American highway in July 2017. And, to do this, we want to convert our own van and ship it over to Canada/Alaska.
So, naturally, we needed a van.
Now, since us pesky Brits drive on the left hand side of the road, and most of the rest of the world (including all of the pan-American countries) drive on the right, we needed to get a van on the continent. At the start of October 16, after months of deliberating and putting it off we booked some flights. A quick week in Knut's home country of Germany to pick up a van, sort the paperwork and drive it back to the UK, bish bash bosh, no problems (ha!).
In the weeks leading up to leaving, I got a constant stream of van ideas from Knut. Every time I looked at my phone I'd have another link to a VW van or a Mercedes Sprinter. Fair to say, I wasn't as engaged as I could be. There's something about being shook awake at midnight to be shown another (admittedly very good) van conversion that started to get a little tiring! But then, the day before we flew I woke up to the fact that we had about 3 days to find and buy a van and that Knut may appreciate some help with the searching. In about 20 minutes I'd stumbled upon this beauty: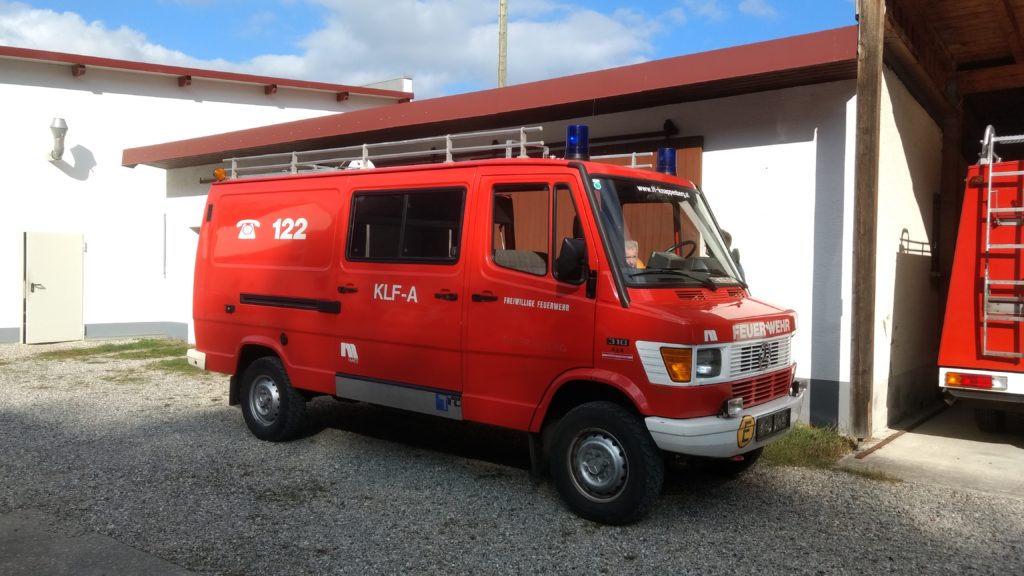 "I think I'm in love" I text Knut. "Interesting…" He replied. "It has to be a real contender?" I asked Knut reeled off the list of all the things I'd specifically said I wanted (something small, something with a high roof, something fuel efficient…). It was the opposite of all of them.
"Yeah but it's a fire engine".
We flew into Munich on the Saturday morning and went to see it. I looked at Knut, and Knut looked at me. "What dya think?" I asked, trying to read his expression. "It's freaking awesome" he replied. I breathed a sigh of relief…my thoughts exactly!!!
A few hours later we said yes. We'd done it. We'd bought a van!! And not just any van – a bright red, 25 year old fire engine.
We then had to launch into quite a lot of paperwork. Turns out buying an Austrian vehicle in Germany while you're living in the UK is pretty hard.
But we jumped through all of the hoops (thank God for Knut being able to navigate the system!), and by the Thursday we were on the road back to the UK and ready to start work on the conversion.