"This way"
"No this way"
We are standing at a crossroads, and the map on a post in front of us, is less than helpful. Countless other hikers before us have stabbed their grubby fingers over the "you are here" point so we can't see what is happening with the trail. We're looking for the high point of our hike in La Mauricie National Park and would rather not miss the view. We hone our common sense skills and decide the trail leading upwards probably goes to the summit. We are met with a view across endless trees. Trees as far you can see, punctuated every so often with a lake. It is vast and glorious.
This trip into La Mauricie is a bit of a random find. We were poring over Google maps in the comfort of Luc's Montreal kitchen working out what to do for the next week before the Downhill World Cup…and we came across La Mauricie. We turned up at the entrance with no real idea what we were going to do. A very sweet girl showed us through the map and our options – an array of hikes and canoeing routes. We booked in for the night with the van, went for the aforementioned hike and then set up a canoe camping trip for the following day.
Canoeing is part of the Canadian psyche. We've read that you're not truly a Canadian until you've had sex in a canoe. This seems very difficult, and having nearly capsized one by just rearranging the way I was sitting we decided early on to leave canoe hanky panky to the locals. We felt very pleased with ourselves organising backcountry camping and going out on our first adventure into the wilderness. Alas, half of Quebec had also decided to enjoy the weather and was out on the lake, so it was less remote and peaceful than we were expecting.
At least initially. Our route was past the Waber Falls, a stunning set of falls that people could canoe to in a round trip in a day. As we were camping near them and stayed late, we sat and watched the crowds peeling off, eventually having them completely to ourselves.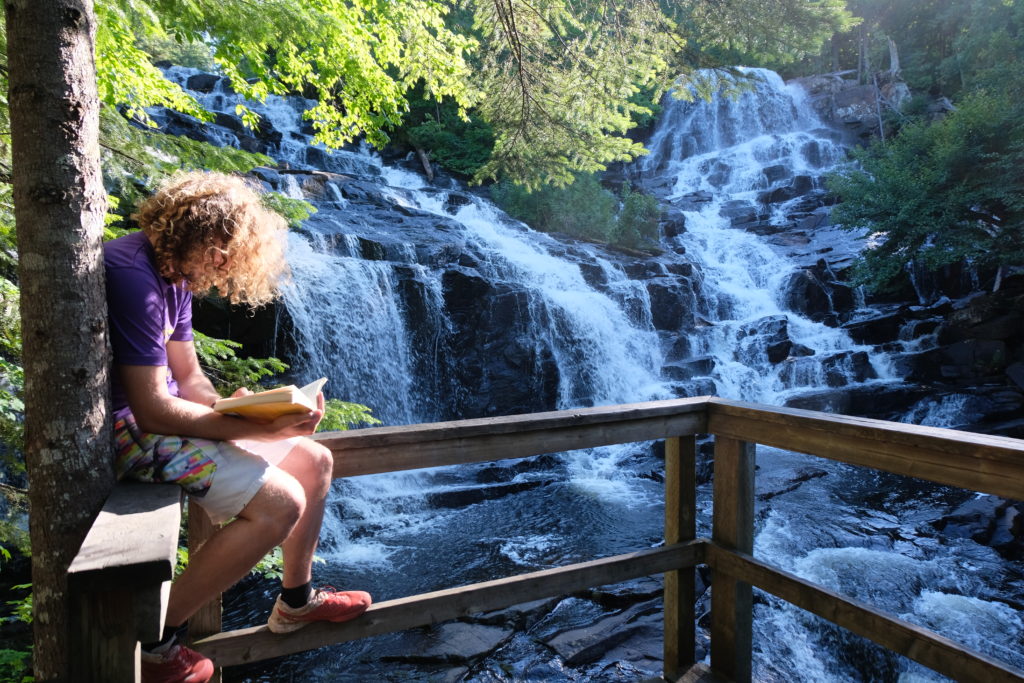 We were the only ones at our backcountry camping, and it felt pretty remote. We hung up our food away from the tent to deter bears and spent the evening sat on the shores of the lake watching the natural world go by.
At one point Knut furiously tugged my jacket – "look over there" he hissed. A wolf was walking along the lake about 100m from us. As quickly as it appeared it had gone, but we were both left wowed. It turned out later there only is a maximum of about 20 wolves in the area, about the same size as Norfolk…so we were really lucky. As darkness fell the wolves started howling and we kept hearing strange sounds in the woods.
But despite that, we slept soundly, and no bears had stolen our breakfast in the morning!
Tips for La Mauricie –

Try to avoid weekends if possible, it's very near Quebec City and has quite a lot of visitors – we only did an overnight canoe trip, having wanted to do a couple of nights but being unable to book the backcountry camping on the weekends (they were sold out).
Book in advance if possible. – we hired our canoes from Wapizagonke which is the main place to hire from for the Waber Falls – they had no canoes available on the Saturday and they didn't have many ultralight canoes for any trips involving portages – again book ahead if possible.
The view from the top