We've completed our first 1000km from Halifax to Montreal and wanted to share our initial thoughts and experiences of life on the road.
The fire engine
The fire engine has been amazing. Our little bed cave at the back is super cosy, and we have a place for pretty much everything so it's keeping pretty tidy.
Here's a shot of it before we'd sorted everything out…(and possibly how it stills looks most mornings….)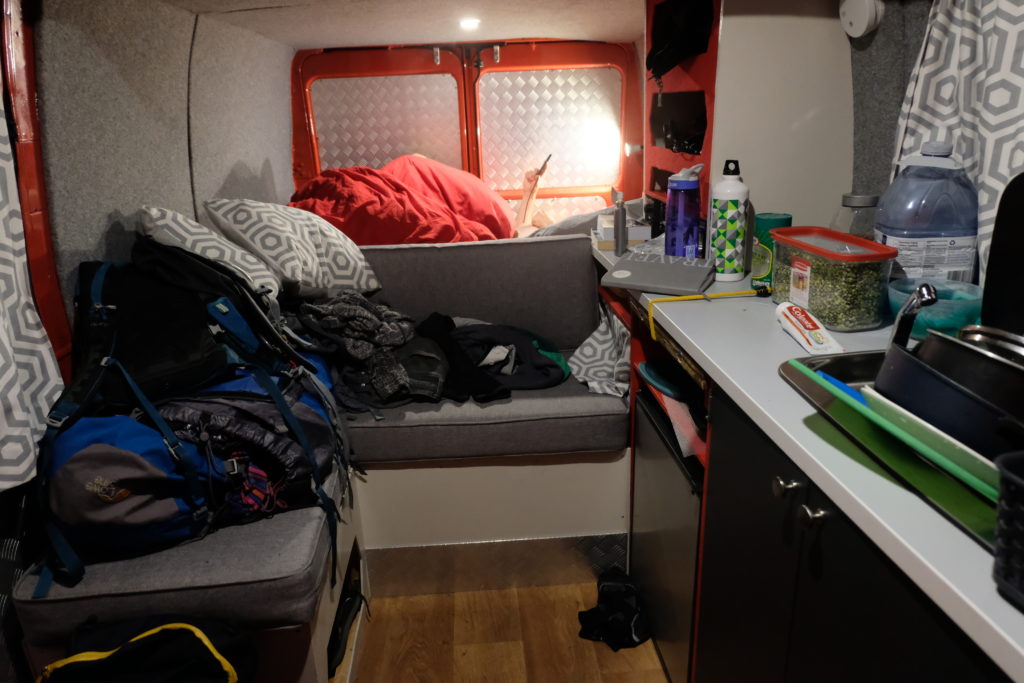 We have had a few minor issues with the mechanics. There was a fuel leak on the first day…which we managed to fix with a little clip and some cleverness from Konstantin. We also had a very horrible sound in the brakes as we started to go downhill. It got worse so we got a Mercedes garage to check it out in Montreal (it was a little older than most of the cars there!).
Turns out the brake pad on the lefthand side had completely disintegrated, so we got that replaced (within 3 hours, which was bloody brilliant!). There's not many situations where not having brakes is good, but they are particularly needed in moose territory, so we're very relieved to have them fixed!
The places we've seen
Our first 1000km took us from Halifax up to Montreal (where we went to stay at our friend Luc's lake house for the weekend). We only had 3.5 days from picking up the van to meeting Luc (and his girlfriend Alice), so we took a whistle stop tour through Nova Scotia and New Brunswick.
We visited the very spectacular Hopewell Rocks, where the difference in high tide to low tide is up to 16m!!
We stopped for an afternoon stroll in Grand Falls, where, you would be surprised, there were some very Grand Falls (and an arguably more impressive gorge).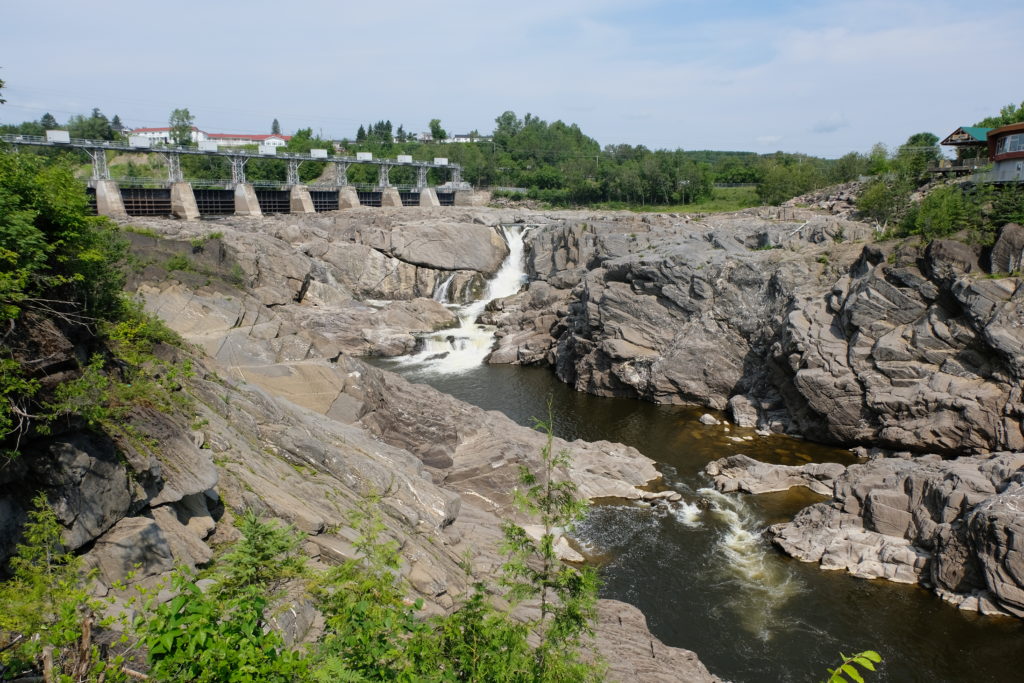 And we went for an awesome afternoon trail run at Orford National Park
However, you will be very disappointed to find out we drove straight past: the French Fry Capital of the World; a Potato Museum; AND the world's longest covered bridge. I know, I know, we definitely missed out.
The people we've met
People have been so excited by our fire engine, it's been very cool. People come up to us in car parks, take photos of it, wave furiously and honk their horn as they're driving past.
We've had some lovely experiences with individuals.
Just five minutes after collecting our van, we met another couple in the port who were just about to put their overland vehicle on a ship and were looking for somewhere to get rid of all their food. We happily obliged and now have enough pasta to last pretty much the whole trip!
We spent the evening with an awesome couple from the West Coast of Canada, regaling stories of ski-ing (or not), and they gave us a bottle of wine as we departed.
We met a guy in Walmart who had lived in Germany and was ridiculously excited about the fire engine, and wanted to know everything about it. He took down the details of where we'd bought it to see whether he could get one himself.
It's been really great as a conversation starter – we've had the chance to meet so many more local people and share in their excitement of seeing a slightly different vehicle in their country!
The places we've stayed
It's taking a bit of getting used to, but we're definitely warming up to the concept of just parking up where we find a space (and it's definitely keeping costs down).
Our first night we stayed in an informal campsite – owned by a great old guy named Don. His view is that "not everything in life has a price", and so he has a piece of land and he just lets people stay on there for free. He provided a fire pit, pizza oven, clean water, a porterloo (and about a thousand mosquitoes) in a gorgeous setting near a river. Legend!
Our second night I experimented with taking us into the middle of a forest and finding somewhere a little "off the beaten track". It was certainly remote – with only the distant sounds of logging trucks to keep us company. Once night fell it was a little scary wandering out for a wee and not knowing whether we might bump into a bear! We didn't…
And then, on our third night we took up residence at a very glamorous picnic area at the side of the road. Knut relaxed in our hammock until we got hit by the most almighty storm and retreated to the comfort of the van!
After that we reached our friend's lake house and stayed in complete luxury (full sized bed, toilet!) for 5 nights!
Overall Thoughts on the first 1000km
I've personally found it a bit strange going from easy and complete access to the internet, to suddenly not really having any internet access without having to put effort into finding free WiFi (I do have a local sim, but I only have 500MB of data…). It could (and can) be liberating, but in some situations it is just a bit annoying! It's also strange going from having instant access to something like amazon prime to having to find things in shops (so traditional!!).
But ultimately, it's been great so far. It's very liberating having complete control over your time – there is no one else to make decisions but you. If you want to stop at X place, you stop at X place. If you want to go for a trail run, you go for a trail run (or you sit in a park and do nothing). I've read three books in 3 weeks, more than I had read in the six months previously.
We're very excited to see what the next 17 months hold!