Welcome to our blog
Hi, we're Janneke and Konstantin, and on this blog we write about our adventures. We're just about to buy a van for our upcoming big adventure. The plan is to kit it out into a campervan and then ship it to Alaska in summer 2017. From there we're planning to take around 1.5 years to drive all the way down to Ushuaia at the southern tip of South America.
On this website you can follow the progress of our van conversion and all the little adventures around the UK and sometimes further afield we get up to before we head off to the Americas. From next summer we'll be writing about our big trip.
Follow us on Instagram for our best photos, on YouTube for short videos of our adventures and on Twitter for updates and adventure related posts.
About Konstantin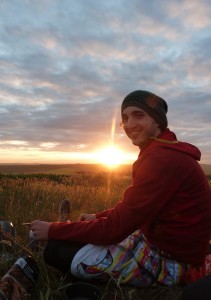 Hi, I'm Konstantin. I'm currently studying for a PhD in London, but I like to escape the city for an adventure in the outdoors whenever possible. Currently my favourite activities are trail running, rock climbing and mountaineering, but I'm also a keen mountainbiker and skier and always excited to try something new.
Happy adventuring!
About Janneke
About Guidiary
When researching for trips I always found it difficult to find all the practical information I needed together with a good story and some nice pictures to inspire me. Originally, the idea for Guidiary was to provide both practical travel guides and engaging stories on my travels in the same place (guides + diaries = Guidiary).
Over the years it's evolved into more of a blog than actual travel guides, but we always try to include some useful information on our trips in the blog entries (this is usually summarised at the bottom of each post).
For regular updates and related topics, follow @Guidiary on Twitter. We're also on Instagram and YouTube. To get in touch with any questions or feedback, please leave a comment on the blog entries or email Konstantin@guidiary.com.