We'd been told by a lot of people that we should concentrate our exploration of the Rockies in the Jasper area – it's a lot less touristy they told us. Unfortunately Konstantin and I heard "not touristy" rather than "less touristy" and so were a little bit shell-shocked when we first hit the town. It was busy. RV's lined up all along the main front street. Signs everywhere saying no camping. People spilling out of the Tourist Information in a queue that was blocking the doorway.
It was very chlostrophobic.
We hadn't really made any plans. Our experience of the Parks we had been to so far was so positive – walking in to information centres and being met by informative and helpful Parks staff who helped us plan our trips, we just had expected the same experience in Jasper. Alas, we must have been the 100th people the gentleman at the desk had seen that day, and, well, helping wasn't on the top of his agenda. More a "Let's see how quickly I can get rid of these people" approach.
We stumbled out of the centre feeling a bit lost. This called for an ice cream. We found a cafe, some internet, some sugar, and regrouped – ending up planning everything ourselves. We divided our ten days into:
Driving the Icefield Parkway from Jasper down to Lake Louise and back up to Jasper (3 days)
Hiking the Skyline Trail (2 days)
Hiking the Tonquin Valley Trail (2 days)
Hiking the Berg Lake Pass to Mount Robson, and up Mount Titkana as a side trip! (3 days)
More about each below.
Driving the Icefield Parkway from Jasper down to Lake Louise and back up to Jasper.
The great thing about Jasper is that you don't need to be a seasoned mountaineer to get the 'classic' Canadian "mountains and lake" shot. You can just drive the Icefields Parkway. This 268km route between Jasper and Lake Louise is just beautiful. It took us three days to do the return journey as we were in and out of the van like a yoyo, armed with the camera and a permanent "Bloody hell, would you look at this scenery" grin on our faces.
Our highlights included:
1. The Valley of the Five Lakes – this was a very nice 4.5km walk (or 9km trail run if you go the wrong way) around some glorious lakes.
2. Escaping the craziness that is Lake Louise – I will admit that Lake Louise is a simply stunning lake. But it is also a very accessible stunning lake, meaning c.5000 other people a day in the height of tourist season are also admiring it. So it is busy. Super busy. We had to take a shuttle to get there because the car park was overflowing.
Anyway, walking about 6km away from the Lake takes you along a picturesque valley, away from the mass of the crowds, to a beautiful tea house where you can indulge in some very yummy cake.
3. Getting to Lake Moraine later in the day and it being just SLIGHTLY quieter….
4. Overlooking the Icefields Parkway from our van – seeing the sunset and the sunrise
5. And all the amazing places to just pull over and take a photo –
Vital Info:

If you're staying in a campervan you can stay overnight at the Columbia Icefields and the Lake Louise overflow carpark for $12 with access to toilets. They are first come first serve, so you don't need to book (you can't wild camp in Jasper or Banff and the rangers do move people on)
Most of the really cool sights are along the East side of the valley, so if you want good photos, try and do most of your driving in the morning
Factor in time for a lot of stops. 268km is more than possible in a day, but it would be rushed.
Pick up this map in the tourist office or print your own
Hiking the Skyline Trail
We were pretty ignorant about the ways of North American Parks before this trip. If you want to do one of the popular trails, it's basically like getting tickets to Glastonbury. When the Parks service opens their booking system on the 1st January, you need to be there – booking up your tent spots months in advance. We had ignorantly assumed we'd just be able to wild camp everywhere.
This wasn't exactly the free-spiritied, "we don't need no plan", approach we'd been striving for on this trip. But we also wanted to see these places – particularly the Skyline Trail, which is "Jasper's highest, and possibly most scenic trail". So we went ahead and booked some camping spots on a detour from the trail…
A little bit off the beaten trail turned into 30km on our second day of hiking. Not exactly what we'd been planning and a fair old hike, but the views all along the trail were very much worth it.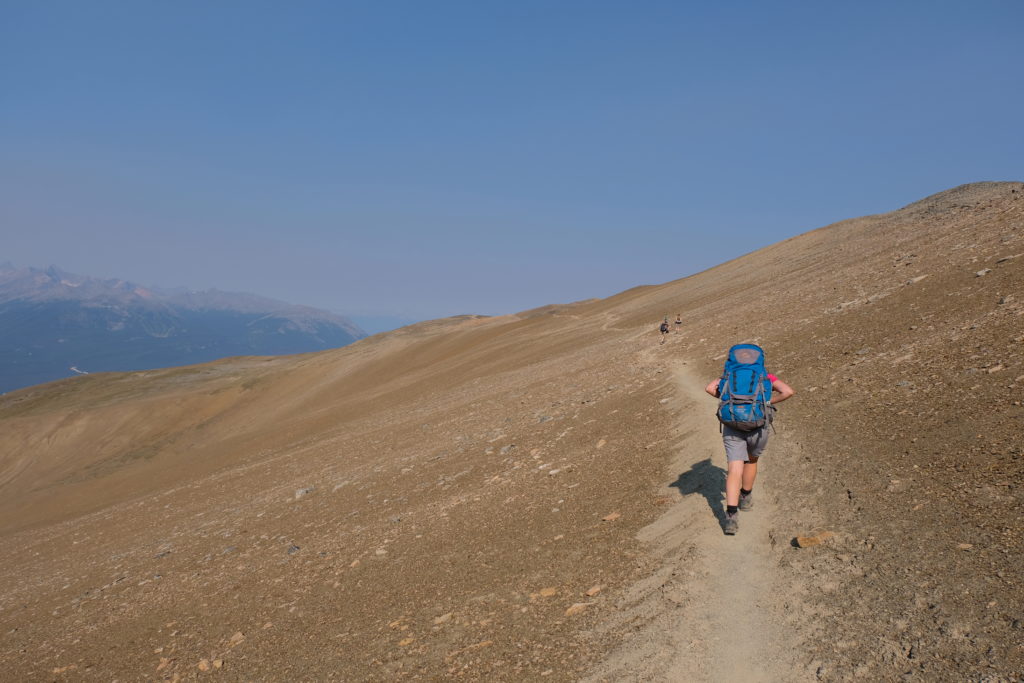 Vital info:

We stayed at the Watchtower campsite – 4km off the main route of the trail
This hike is possible in 2 days if you're an experience hiker, and/or if you get the [Campsite] which splits it into a nice 20km and 22km day…
Book your campsites way in advance! It's easier to get a place in September than through July and August.
The trail is extremely well marked and pretty easy to hike – there is a relatively tough section over the Notch which needs a certain level of fitness and balance!!
The trail is one way – we parked at the end and hitchhiked to the start. It took us about 30 minutes to get a lift. It's about $30 per person to get a lift in the shuttle….!
Hiking the Tonquin Valley Trail
The Tonquin Valley trail was slightly less popular than the Skyline Trail, so we didn't need to detour to get a place to camp, just walk one really long day and one slightly shorter day – splitting 44km into a calf-aching 27km and a leisurely 17km.
The route took us through a beautiful forest, with the haze of smoke from the British Columbia wildfires making everything a little dull and out of focus. We got to the lake and sat and relaxed before heading to our campground.
I'm not 100% sure why but a lot of the campsites we stayed at and we saw were in slightly odd places. It's like in those first hikes when the rangers were deciding where to put campsites they walked past all the beautiful places with fantastic views, and were like "Mwhaha lets shove them in this forest were they can't see anything!". This was the case in Tonquin Valley. We walked through gorgeous scenery with impressive views, and then we turned off into the woods away from all of that. So in the evening we escaped the trees and went back down to the lake to watch for wildlife and see the sunset.
Vital info:

We stayed at Clitheroe campsite
This trail is also one way – and one of the roads was under permit while we were there. We parked at the Portal Trailhead, and then had to wait quite a long time to get a lift back at the other side. We couldn't find any information about another way to do it though!
Hiking the Berg Lake Pass to Mount Robson
After four days hiking it would have been logical to plan in a bit of a shorter day, but alas, the curse of the popular campsites struck again. We wanted to do the Berg Lake Trail in Mount Robson Provincial Park, and the only campsite available was 26k along…so off we trekked. Thankfully, we actually had planned in an extra rest day the day after so were fairly sure our legs would hold up.
As the rest day rolled round, Knut suggested we go for a little hike and see whether we can climb to one of the peaks (Titkana) along the Snowbird Pass. 27k and over 1300m of ascent later we rolled back into the campsite feeling slightly less than rested! Hardly any of the paths in the Rockies go to the tops of mountains, so we had to find our own way, sort of like intrepid explorers but without the dying, beards and snow. I invented a new sport – skreeing (which is like ski-ing but just on skree slopes), and then we got absolutely and completely soaked (as all the clouds that had made the photos look epic decided to open!). But it was by far the best views we'd seen in the Rockies so definitely worth it!
Vital info:

We stayed at Adolphus in Jasper National Park. This was a nice campsite, but it is really far from the trailhead.
We were told that all the Berg Lake trail campsites would be booked out for weeks – which is true, they were. But, they also have a very high rate of drop outs. Turn up on the day and you'll probably be able to get a space at one of the campsites c. 21 km along.
It's a really nice area to explore, so we would recommend going out and spending a few days out there and doing some day hikes.
The Snowbird Pass route is great and really well marked – going up Titkana is a little tougher, and should only be attempted by experienced hikers with good shoes!