Like many other thousands of tourists over the last couple of years – I was desperate to visit Cuba before the already warming relations with the US turned into a burning romance. I had been watching with trepidation as communication lines had started opening, travel restrictions were easing and the ticking clock of capitalism was creeping over the Gulf of Mexico.
So, in November 2014 I took the plunge and booked myself tickets to Havana. I unfortunately had to leave Konstantin in dreary London as he'd run out of annual leave. So solo to Cuba I went.
Wednesday – Arriving in Havana
I arrived in Cuba about 9pm. It was pitch black and I had the inevitable new country nerves. I had everything I owned on my back – basically a neon sign to everyone in a 5 mile radius flashing "THIS GIRL IS NEW TO THIS SYSTEM". It's not really a surprise that most tourist muggings happen near transport hubs.
I got myself some money and nervously congratulated myself on how easy this had been so far. But, I still had another hurdle to overcome – the stressful process of getting a taxi in a new country, late at night, on your own. The lonely planet had quoted 30 cucs to get me to my hostel. Having been in a number of situations where I've been wildly flailing the lonely planet quote to a taxi driver, only to have them squarely laugh at me and stubbornly refuse to take anything less than three times that, I was readying myself for a fight.
You can imagine my surprise as the first taxi I went to quoted me 30cucs straight off. I jumped in, immediately wondering if I'd been a numpty for not asking for less or whether there was some other catch…but there was nothing, he dropped me straight to my hostel no problem at all. You say first impressions count, and I already knew I was going to love this country.
Thursday – exploring Havana
The next morning I walked towards the independence square and started to explore. The communist influence was pretty stark. After getting very sternly told off for taking some pictures of buildings I shouldn't have been I took my life into my own hands and crossed the delightful 10 ten lane motorway to get into the centre of the square (which I think was worth it!) 
I then went to buy my tickets from the bus station which is conveniently placed miles from bloody anywhere. The ticket purchase system was unique and perhaps not the most efficient way of doing things, but added a layer of quirkiness and amused me. From what I could work out from the very scary spanish lady I couldn't get the bus I wanted so had to change my plans and go in the afternoon. But I had my ticket and I had navigated the system to some degree of success so I was pretty happy.
 
Friday – exploring Havana
The next morning, nursing a slight hangover (turns out mojito in Cuba means a glass of rum with a dash of tonic), I chilled out in the old town of Havana with two Danes and an Argentinian. The Danish guys were on the look out for a Cuban called the Philosopher – a friend of theirs had met him a year or so before in Cuba and he'd asked the Danes to pass on a package of memory sticks with all the latest TV series. So what you may ask? Well there's no internet access and very limited availability of films and TV in Cuba – so a memory stick full of it probably had the black market value of a kilo of heroin! We sat on a side street for a while waiting, but I decided to split and explore the rest of Havana.
The next morning I met the Danes again and got a serious case of post-FOMO (FIMO maybe – fear I missed out?). They'd eventually met the Philosopher who had been so over the moon with the package of digital heroin that he took them out for a night on the town, buying them all their drinks and introducing them to all his friends. Conversely, Id spent the evening reading in bed….!

Saturday – Havana beach and bus to Vinales
Since I wasn't able to get the morning bus, I had an extra few hours in Havana to play with. What better way to spend it than at the beach?! I took the bus out with a couple of the girls from the hostel and we spent the morning sunbathing in Caribbean bliss*.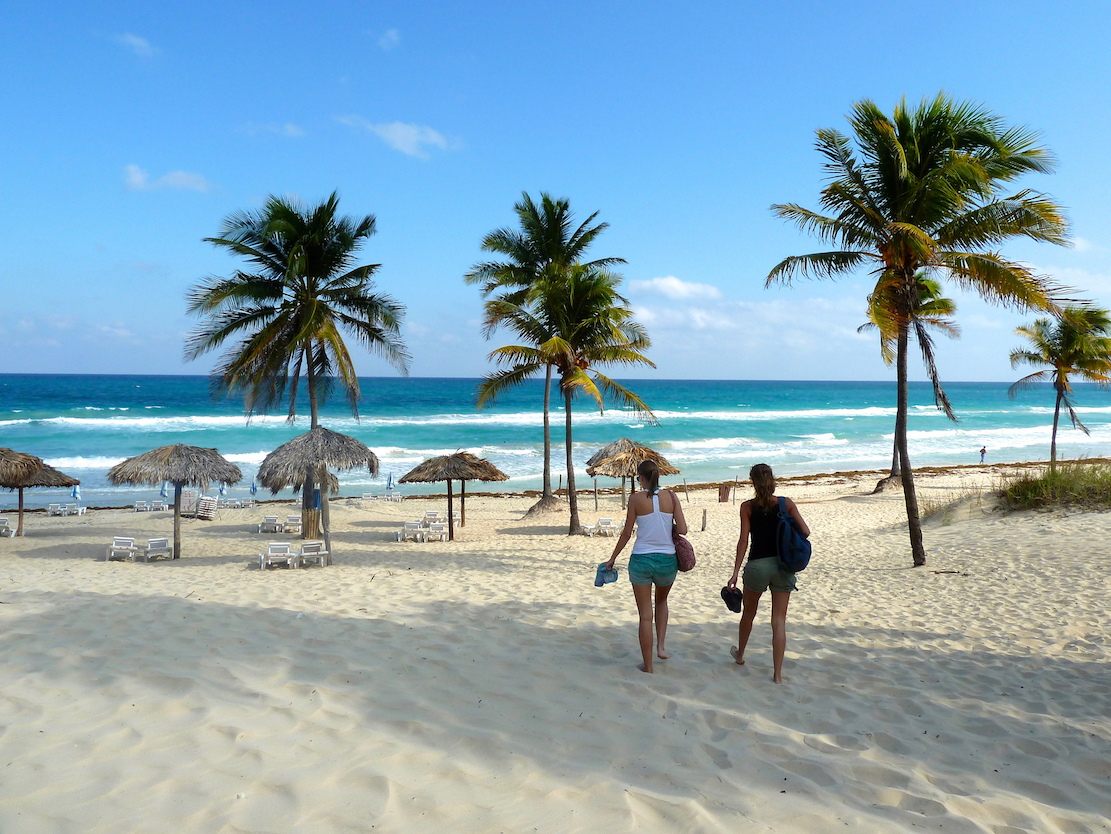 *This is actually a lie. It was pretty cold and windy and we only managed about 30 minutes 'cloud' bathing before we went back. But thought I'd try and make you jealous for a few seconds!

Working in transportation makes you hyper aware of how systems work wherever you are in the world. Unfortunately, try as I may I struggled to find the logic in what happens in Havana bus station, but at least it was amusing to watch. So, from what I could see, you can't buy tickets on the day until about 30 minutes before the bus goes. Then a lady comes and sits at a desk and a massive crowd of people form around her as she sells tickets for the bus. There is no way of knowing if you're going to get a ticket and the queue inevitably takes longer to process than the 30minutes there are before the bus goes. And then, just to add another layer of confusion, once you've got a ticket you've got to join another line to have a man draw a circle on it. And then you're ready to join the bus. I avoided most of this by already having a ticket, but I still needed a circle, of course.

I arrived in Vinales in the early evening. I'd booked accommodation, but from the broken English of the man standing at the bus stop waving a Janneke sign at me, it appeared this was no longer available but 'a bueno bueno casa' was presented to me as an alternative. With seemingly no choice but to follow the man I found myself in a very purple, very kitsch casa that definitely wasn't my idea of bueno but was comfortable enough. My Spanish is not particularly good/existent, and casa owners it turns out don't speak much English…so we smiled a lot at each other and just about got by!

In the evening I caught up with some travellers I'd met in Havana and on the bus. We ended up taking a old school car out to a cave (la palenque) where there was a massive party going on. The place was buzzing – and my oh my Cubans love to dance. Woe betide any Cuban man looking for a wife who can't dance….! We partied on to the early morning and eventually found another old school taxi to bring us back to town.
Sunday – Vinales
My limited Spanish led me to inadvertently book a private walking tour around the Vinales valley for Sunday morning. I'd been hoping for a group (and someone with perhaps a tiny little bit more English), but this was a big concept to convey in a language where I just about able to say breakfast. So off I went on a three hour tour with my personal guide, Veronica. Despite Veronica's limited English we were able to get on quite swimmingly with a few nods and hand gestures, and given I was nursing another rum hangover I wasn't particularly in the mood for a long chat.

Vinales valley is very very beautiful and well worth spending some time exploring (I chose to do this by foot, but you can also hire bikes or a horse). I'll be honest, given my organisational skills in sorting the tour I have no idea what part of the valley I actually visited, but here are some photos: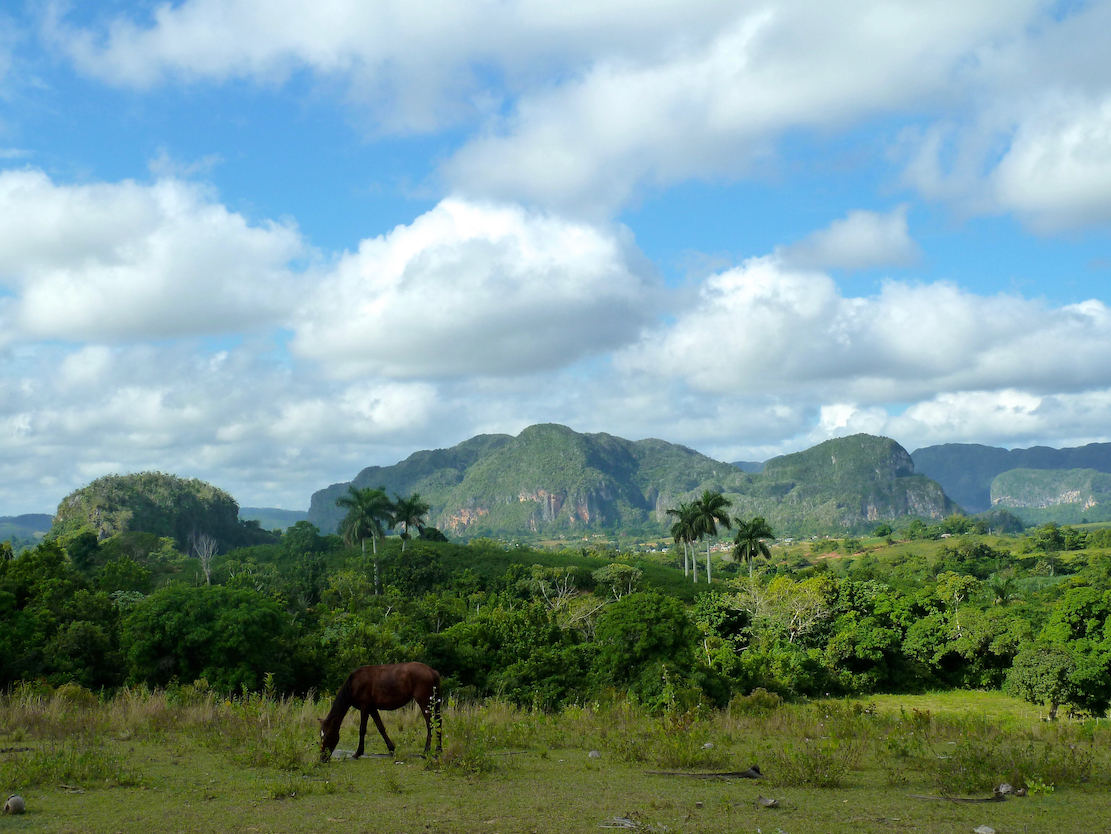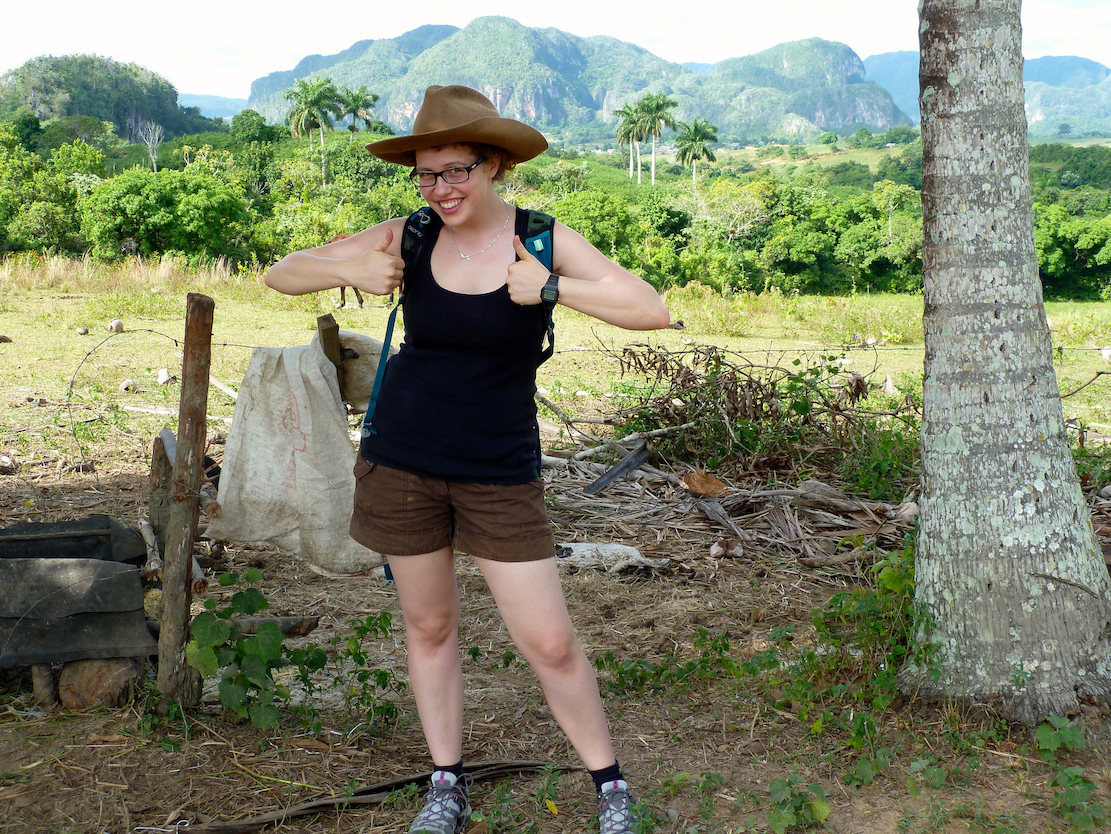 It is worth taking in the whole added extras (cane sugar drink and a cigar if you're that way inclined).

I returned from my explorations feeling rather shoddy. I'd made the rooky error of being out in the sun for three hours with no hat and no water (yes, I know, I can see your disapproving faces). So I tried to have a nap in my palace of purple, but that didn't really help.
Given I didn't want to waste my time in the area I went out to get a taxi to Los Jasmine's – a hotel on the hill near Vinales with a pool and an awesome view. Alas a taxi was no where to be found. Having travelled so often in countries where you're fighting off men shouting 'taxi, taxi' to you the moment you so much as think about looking at a road, Cuba was a lot more relaxed about the whole taxi malarky. I had two drive by and ignore me. So, still feeling slightly fragile I now found myself walking 4km up a hill in the seering midday sun. Mad dogs and englishmen indeed.

The hotel was worth it and I curled up in a ball on a sun lounger and felt sorry for myself for the rest of the afternoon. Once I'd finished relaxing I got the hotel to organise me a taxi back down. Given how I was feeling I was ready and willing to be ripped off, I just wanted to go home! Once the taxi arrived, a couple of random Cubans jumped into it with me. My mind was not in the mood for negotiation and my Spanish was not good enough for bill splitting, so you can imagine my delight as they dropped me off that they didn't charge me a cent and picked up the whole tab.

My casa owner had been very disappointed that I hadn't eaten at her house on my first night, so that morning I had promised her I would that evening. Unfortunately, once evening came given how I was feeling the last thing I wanted was to eat – let alone a whole lobster. I had about five bites and had to leave the rest. I don't know the Spanish for disappointed, but my god I could see it in her face as she huffed and puffed around the kitchen clearing up the wasted food. I can only hope they didn't actually have to throw it away.

Monday – Vinales
I woke up still feeling shoddy, so decided to do some health service tourism. The husband from the casa walked me over to the local hospital which had a hint of the Havana bus station chaos, but actually worked extremely efficiently. I was seen to within about 20 minutes, examined, given some rehydration salts, and told to wear a hat. And all completely for free. Whatever your thoughts are on communism, a completely free, efficient and effective health service is pretty impressive. 

Feeling a bit better I decided to take a jaunt back up to Los Jasmine's and sit by the pool all day again.

Tuesday – Vinales – Trinidad
My time in Vinales had come to an end – and I spent pretty much the whole of Tuesday on a bus to Trinidad. This is a long journey at the best of times (scheduled for 10 hours), but when your bus breaks down in Cienfuegos, there looks like there is no end in sight. I was with a Canadian and Italian at this point and the Italian, who spoke perfect Spanish suggested we get a taxi. Given my case of FIMO a few days before I said yes and off we went. When we arrived in Trinidad this became a bit of a case of FIMTWC (Fear I made the wrong choice). I'd already booked accommodation and the owner was coming to find me at the bus station. But now I wasn't at the bus stop, I had no map to my casa…and I was stuck with a very arrogant, very pompous Italian. Frustrating. 
Anyway, we found somewhere to stay and then met up with an even bigger group of people – holding our own little EU summit. Lots of languages, and lots of Europeans. It's always a bit #awks when everyones introducing themselves in about seven different languages and you have to be like. "Hello I'm British"….."No just english". After having a delightful meal we all headed out to sample the nightlife of Trinidad – Cuban's love their cave parties it turns out!
This cave was a little more touristy than the Vinales one (admittedly from what I can remember…). You were able to walk to this cave from the centre of town (unlike Vinales where you needed a taxi). They put on a 'show' in the middle of the evening, which I'm assuming was pretty unmemorable because I remember hardly anything about it. In fact my overriding memory of the evening was the sudden realisation all the lovely looking, scantily clad Cuban girls sat around the edge of the dancefloor may have had slightly less salubrious reasons for being there than just a drink and a boogie. Oh my naïvety.
Wednesday – Trinidad (cycling and beach)
In the morning I met up with the Italian and Canadian and we hired some bikes and cycled to the coast. The bikes looked as if they'd been shipped over about 20 years ago and had been gathering dust and rust in some garage since then before someone realised they could charge tourists (a WHOLE £4) to take them out for the day. Mine had special added features of no brakes, no gears, no way to adjust the seat and limited amounts of air in the tyres. But I like a challenge.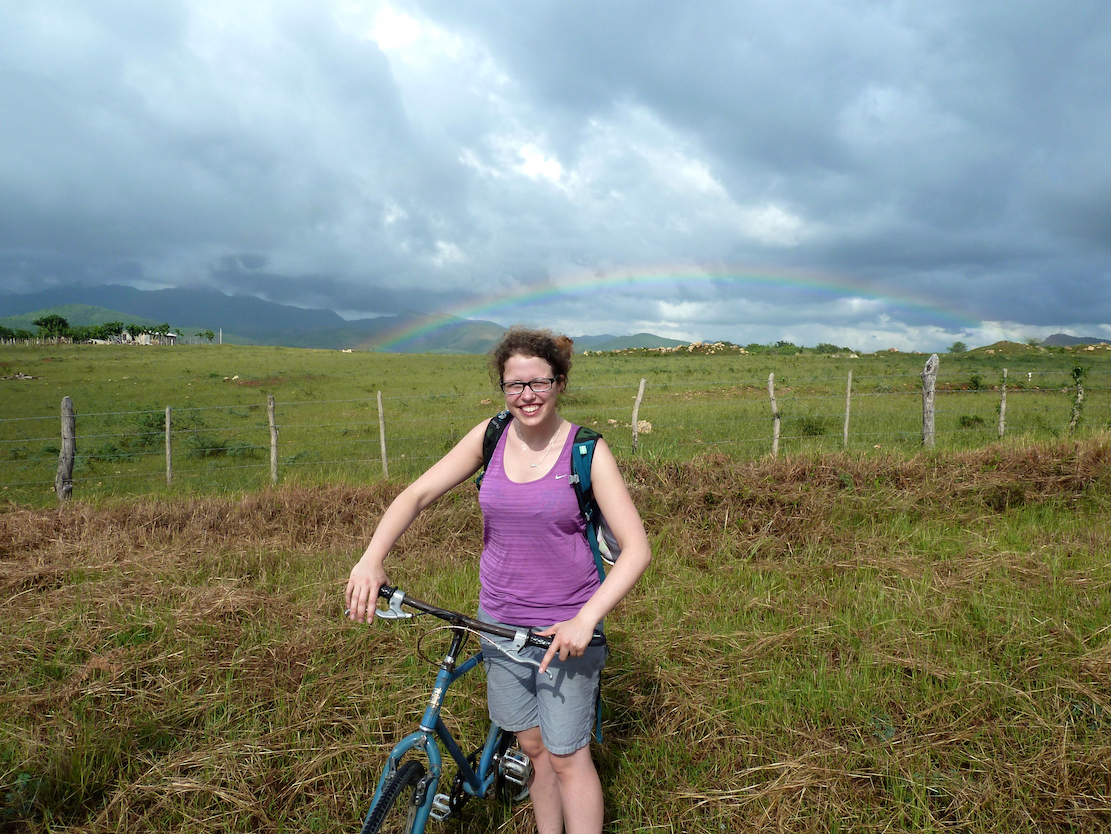 The beach that awaited us (Playa Boca) was a small deserted enclave with very little about (I had sort of been hankering for a sun lounger and a beer…!). The sea was much calmer than in Havana so I got a nice swim in…but unfortunately the weather turned after about 1.5hours and it became pretty cold. As the storm clouds began to gather we cycled back to Trinidad…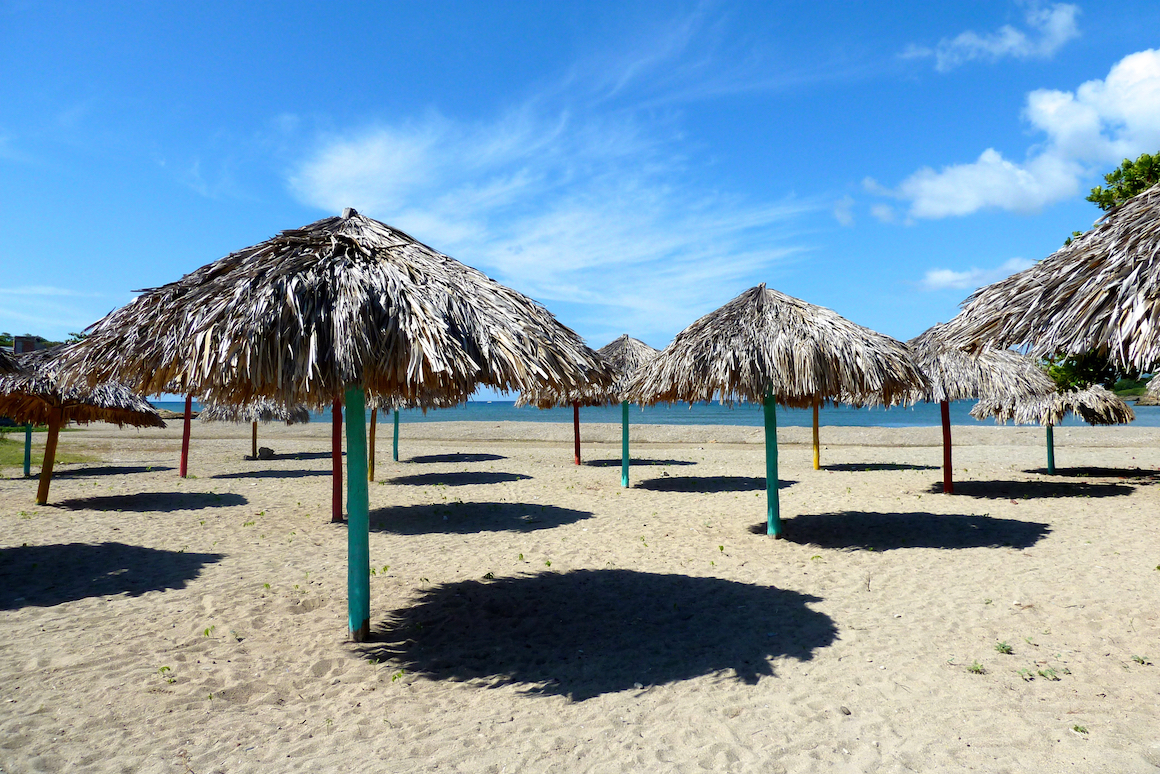 Just as we arrived in the city the heavens opened. The drainage systems struggled to cope with the deluge and within 5 minutes the cobbled roads had turned into rivers. Decrepit bike + cobbles + pot holes + lots of water = a pretty hairy/exciting cycling experience.
As much as I am a social creature…I was starting to get a bit weary of hanging around with people I hadn't actually chosen to go on holiday with (particularly my smarmy Italian friend). So I split from them and went for a wander on my own following the Lonely Planet's walking tour around Trinidad. This was made all the more delightful by the recent downpour – the streets were still quite empty and there was a moody grey sky over all the houses. I have heard from people who've been to Trinidad more recently that this walking tour is now just full of tourists all eagerly walking around with their head in their book…so think I must have been quite lucky!
Thursday – Trinidad (day trip to local national parks) 
I woke up on the Thursday and realised I hadn't organised anything for the day. There had been talk of a group of us getting a taxi and going for a hike in the surrounding area – but as I woke up it dawned on me that nothing was likely to come of it. So I jumped out of bed, got myself to the first tourist agency I found (perhaps the only one?!) and booked myself onto a full day tour exploring the local hills and waterfalls.
I am so so so glad I did. It wasn't exactly the cheapest (think it worked out about £40) but it definitely was a contended for my best day of the trip. Not only was the scenery awesome….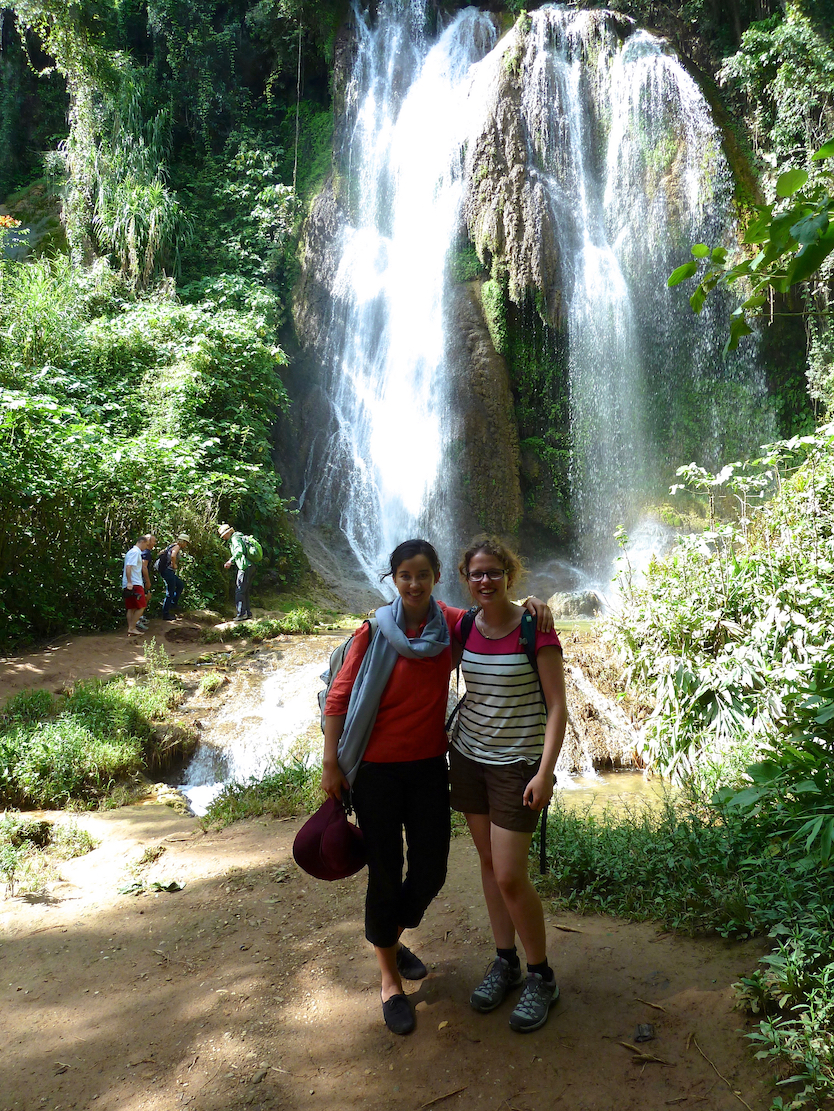 …but the conversations were just great. Spent the day chatting with a lovely Australian doctor and the very knowledgeable and very interesting Cuban guide. It's always difficult when you're travelling to have in depth conversations with locals – particularly when language is a massive barrier. Luckily our guide was not only fluent in English, he was also very politically aware and happy to talk about it. Cue lots of very intellectual conversations about communism, the government, the changes coming in Cuba…and some less refined ones about sex in Cuba, homosexuality and dating. Explaining tinder to someone who doesn't have a smart phone and has never had access to WiFi was amusing – he simply could not comprehend the concept.
This day was also quite momentous – being the first day I have EVER had a cup of coffee. We visited a coffee plantation and I figured it would be rude not to. Then again, taking one sip, making a very ugly face, trying not to spit it out and then leaving the whole cup also could be considered rude. So when I said had I mean I bought one, tried it, hated it, put literally ten sugars in it, tried it, hated it, gave up again forever!
In the evening I hung out with the Australian doctor and we went to the Casa de la Musica in the middle of Trinidad. This is an awesome bar (but kind of not bar) situated on some steps in the centre of the town with live music and dancing every evening. It was very fun – we spent the evening chatting to a Cuban guitar player and two Venezuelan girls.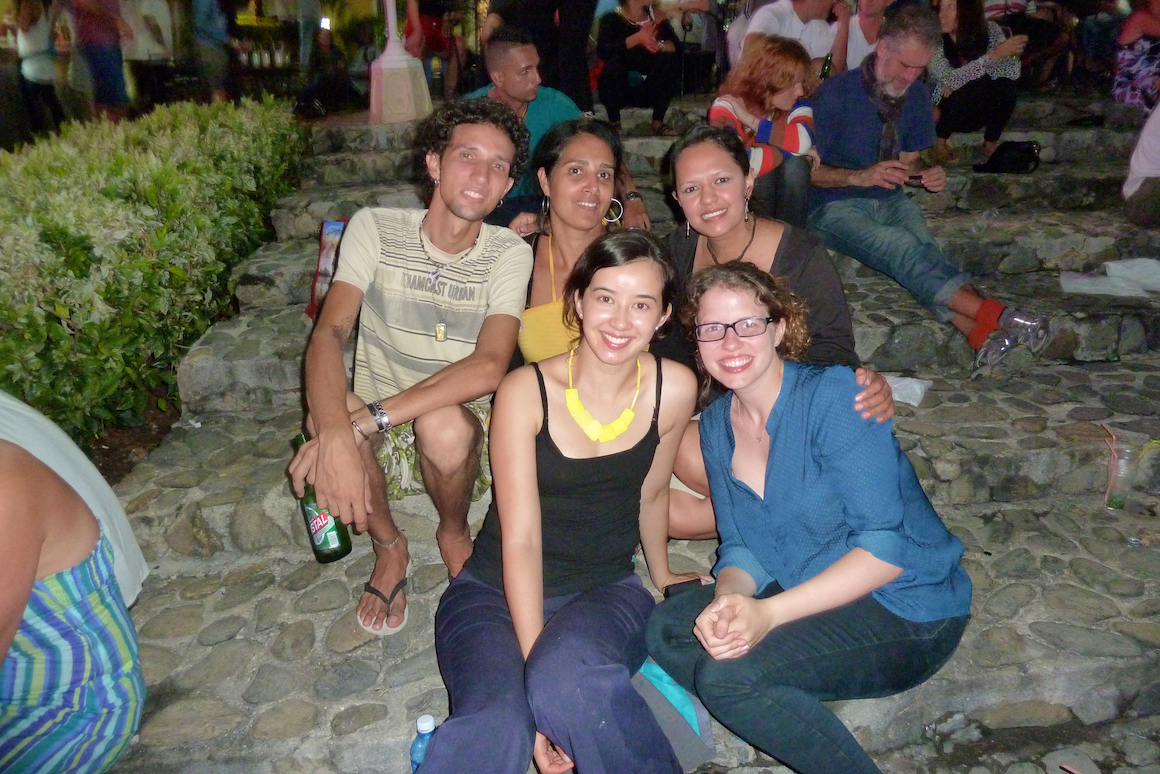 Friday – Trinidad 
On Friday I decided it would be a good idea to go on a horseback tour to another waterfall. Turns out horses and me don't mix. So less good idea, more painful, nauseating experience. I didn't realise you can get horse travel sickness, but trust me, you can.
The waterfall we ended up at was pretty cool – it was quite busy and I did feel a bit of a lemon there on my own while lots of other groups of tourists sat around with beers. But I stretched out my time for as long as possible, avoiding the inevitable moment I'd have to get back on the damned horse!
Saturday – Havana
Saturday was time for me to make my way back Havana. 
On the previous two journeys (Havana-Vinales; Vinales-Trinidad) I'd taken the state buses. This time I got a random man in the street to organise me a taxi. I just gave him my address and he found three other people going to Havana. It ended up costing the same as the bus, but took 2 hours less and I was picked up and dropped off from my casa. Very much recommended (although I ended up meeting lots of people on the bus – pretty good for solo Sally's like me). 
With my last day I had a bit of time to visit the Havana art gallery (very worth a visit), go and have a drink on the top floor La Torre restaurant with stunning views across the city, and eat at the legendary Sloppy Joe's restaurant and bar.
I also had time to reflect on Cuba and my trip. I genuinely couldn't sing the country's praises loud enough. I absolutely loved it.
It's a little bit creaky in places, and some modernisation could be useful (although I found not having WiFi liberating)…BUT I saw one beggar in my whole 12 days, I was given free healthcare in an efficient and clean hospital, I never once felt threatened or like I was being swindled. It was a great place to travel (particularly as a solo female) and there is so much to see.
Go. Please go.