After getting my place on the marathon running for Plan International in October last year, I got myself very excited and read lots of blogs about the proper ways to prepare for a marathon – the training plans, the nutrition, the mental preparation…
I had this. I started my training in November – not planning to do more than 10k, building up slowly and surely to avoid any injuries. And, by the time 2015 finished I felt strong – I ran a 10k in December just before Christmas in 50 minutes, a new PB and a great way to finish the year.
So as 2016 started I was excited to build up the miles. I went to an excellent running workshop on the 8th January which gave me great tips on how to run to avoid injuries (cadence, posture, relax!!). Off I went to practice my technique and was really getting into it…
And then, mid February I went to the gym and had to leave after 20 minutes suffering from a dizzy spell and bouts of sickness. Something wasn't quite right. The next morning I woke up in the depths of a flu-ey hell. I did an obligatory 'lets pretend I can get up and go to work' and gave up after five minutes, creeping back into bed and texting my boss that my highly contagious and miserable state was not going to be fun around the office.
I was bed bound for five days, and feeling shoddy for 10 days after that. This wasn't in the training plan and I was getting stressed out. Just at the moment I was hoping to build up the miles I was wrapped in duvets and barely walking 20 minutes a day.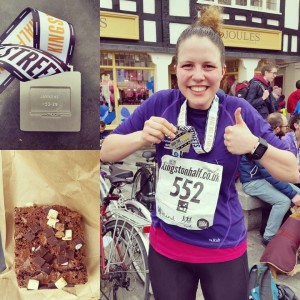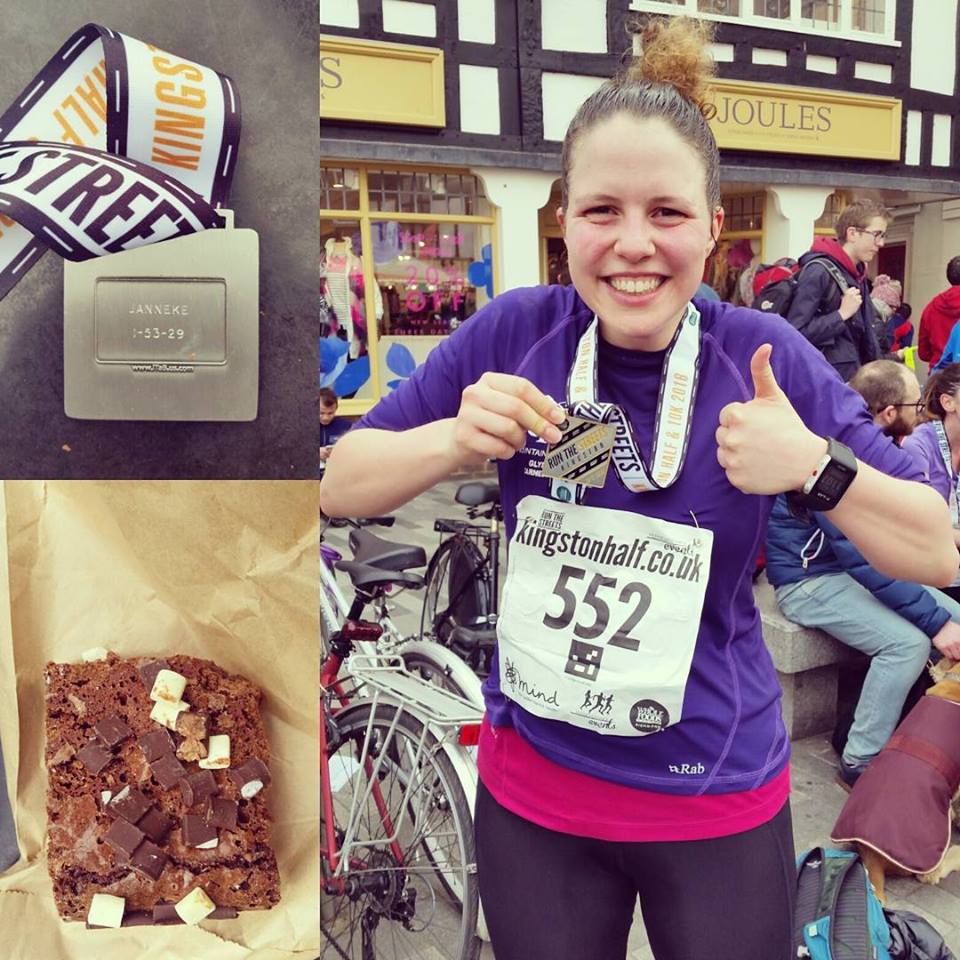 By the end of February I was starting to shake off the illness. I had booked in to do the Kingston Half Marathon and despite small levels of sniffiliness I felt ready to run again. Amazingly, and I am really not sure how, I ran a PB – 1.53.29. This was a massive boost and I was really excited to be back in the zone and running again.
Then, two weeks later I flew to Rome and took part in the Rome half (more about that here)…This was a great race and again it felt good to be running again – although I was starting to stress out about the fact I hadn't been upping my distance over 13 miles.
Unfortunately I didn't much time to think about that. I flew back from Rome and again was caught by the dreaded lurgy. All the plans I had to do mid-week runs, gym sessions and eat healthy were yet again out the window. If I was stressed before, I was pissed off now.
I fed myself a lot of cake and felt sorry for myself. By the time I was back well again it was nearing the end of March and time was running out to get the miles in and build up my strength…I had a lot of catching up to do. 
So on Easter Sunday I got my dad to drop me in Littleport and I ran a 28k route back to Downham Market. It took me 2 hours and 50 minutes and was a massive confidence booster – despite missing all this training I felt like I was going to be able to do it…
But unfortunately, my body had other plans. The next day I decided to do a slow 5k and after a 2k I felt my Achilles start aching. 
And so began the final and most frustrating chapter of my marathon journey.
First came naive optimism – I'll rest it for a couple of days and it will be fine? Surely the 100s of blogs talking about 6-12 week recovery times for an Achilles injury don't apply to me? Ignorance is bliss.
Second came denial – maybe it doesn't actually hurt? I know I'll just try a slow 5k. Ow. Ow. Okay I'll try cross training. Owwww. Okay it hurts.
Third came self-treatment. Who needs a 5 years medical degree when you've got google and youtube? I put myself on ibuprofen and started doing some different stretches.
And finally I realised nothing was working, I was a week out and I was still sometimes struggling to walk. This was a pretty low moment. There were quite a few tears. So much time, so much effort and everything hung in the balance.
I decided to visit a physio. Fear had stopped me before. I didn't really want to face the reality that my marathon dream might be over. I picked a random physio from a google search and went and spent an hour getting my leg massaged. Thankfully my physio didn't actually speak much English, so conversation was kept to a minimum and I left out any mention of marathons…
I had another session on the Tuesday before the marathon and I dared to ask whether I could run again. He said it should be okay in four days time…so all good right? I decided his language proficiency didn't need me to expand on this and that the fifth day would be a small 26.2 miles…
So I made a big choice. I was going to do it. I wasn't going to do it fast. I may have to walk most of it. But I was going to do it.
It was a relief to make the decision.
The day rolled round and I was a mix of emotions – nerves and excitement
I simply had no idea how it would go. I hadn't ran for over four weeks, and had only ran minimally on and off before then. When I started my preparation I was hoping for a sub-4 hour marathon. Now I would take just getting round – anything sub-7 hours would be a success. I didn't want to do any more permanent damage to myself. 
Just after 10am I crossed the start line and eased my legs in, still no idea what the impact on my Achilles would be. I managed about 2k before I started to feel it twinging…a dull, numb sensation, tickling my ankle. Noticeable but not unmanageable. I soldiered on, purposefully not bridging the 6 minute km mark and feeling pretty comfortable. I had secretly wanted to manage at least 10k before I started walking and it was feeling within my grasp.
At 10k I passed my friends from work at the Cutty Sark cheering me on with an AWESOME banner, then at 9 miles Knut and my parents were cheering away, and on Tower Bridge Amy, Tobi and Maddie were flailing their arms wildly. Genuinely AMAZING to see everybody.
In the end I managed 25k of jogging before I felt a very uncomfortable sharp pain through my Achilles and immediately cooled off into a fast march. I really didn't want to snap the tendon as much as I wanted to complete the race.
And, do you know what? Marching fast is actually very good fun. For one, it's so much easier on the old heart, and for two, you can just walk along and grab sweets from everyone handing them out. I ate a lot of jelly babies. I also took my headphones out to listen to all the attempts to say my name. Some were very amusing, but actually a surprising amount of people got it right!!
By 32 km I was starting to get a bit emotional. I had worked out that I had about an hour an a half to go if I continued at my fast walking pace, and finishing was beginning to feel in my grasp (it was still a long way but my legs felt like they could do it). I saw my family and Knut again and burst into tears at the overwhelming-ness of it. What a soppy git.
The next 10k were a bit of a blur. I remember seeing the Midnight Runners at one point and getting a great set of high fives. Then 5k from the finish an elderly marshal pulled me over. 'Look love' he said. 'You need to start running'. 'I can't, I'm in quite a lot of pain'. I replied. 'Pain is nothing. Think about that later. You have 3 miles left. You can run them.' So I started running. Who was I to defy the old man?
I got a great running set of cheers from David P as I went past 23 miles, then at 24 I got blown kisses from my lovely adventure friends. And then, at 5 hours 6 minutes and 30 seconds I crossed the finish line. I had done it.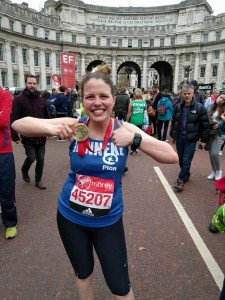 Oh what a feeling 🙂
I ended up raising £2610 for Plan International – but would always love any more, you can donate here.