The Trolltunga hike is billed (by basically every Google search I did) as a 22k out and back walk. Turns out it's actually very easy to make this into a loop walk if you're happy to camp, and don't mind a long days hiking. This allows you to avoid the tourist crowds for the majority of the time, see a bit more of the amazing Norwegian mountains and not repeat the same section of walk. All in a long weekend. Here's the details.
My friends (Amy, Emma and Maddie) and I completed this hike 5th-6th August 2016. We hiked 11k on day one from Tyssedal to Trolltunga, camped overnight there, and then hiked 23km round Ringedalsvatnet back to the car park. 
The route for the second day can be seen here.
Day 1
We took a hire car from Bergen to the base of the Trolltunga hike. There's two car parks – if you want the one at the top you need to get there for c. 6am. We arrived at about 12.30pm so had to settle for the bottom car park (100nok per day) and a bus ride to the start of the hike (50nok per person).
We started about 1pm, launching into the tough first km of the main path to Trolltunga. I'd read a lot about this and so was expecting something pretty taxing – and it was very steep and the weather meant the path was a bit of a mud slide.
But after that the path was a dream. Given every Google search of trolltunga returns the classic shot of the rock, I didn't really have any expectations for the actual hike, so I was very pleasantly surprised to find it was also stunning! 
There were a lot of people out on the path. The naivety of some was quite worrying (white trainers, no water, a suitcase!!!). We found out later the Norwegian mountain rescue has been called out 30 times so far this year (they're volunteers). The warnings are pretty clear along the path, and the terrain is pretty harsh, but people always think they know better than experts (including 52% of my fellow Brits…)!
As we approached 11k and Trolltunga the fog started to set in and visibility was very poor. We turned the corner to get our first, slightly less than awe-inspiring view of the rock:
Not particularly what we'd been hoping for. There were quite a few people still up there on a day hike who'd been there for a few hours waiting for the fog to clear, only to have to give up and go back down disappointed. At least we were staying up there so we were giving ourselves maximum opportunity, but it was hard not to feel slightly disappointed too!
We set up our tents in the mist and got our layers on. It was cold. And with no real view of the mountain we retired for an early night, nervously hoping the weather was going to do a U-turn in the next few hours.
Day 2
In the morning we eagerly set our alarms for 5am, optimistically picturing the epic sunrise shots we were going to get. 5am rolled round and we awoke to the pitter-patter of rain on the tent…a quick look out of the tent confirmed a visibility level of about zero. So alarms off, roll over, back to sleep. This was repeated at 6am, and by 7am we started to pray.
At about 7.30 the Nordic weather Gods sympathetically answered my cries and we had about 20 frantic minutes of waking up and trying to take as many photos as possible.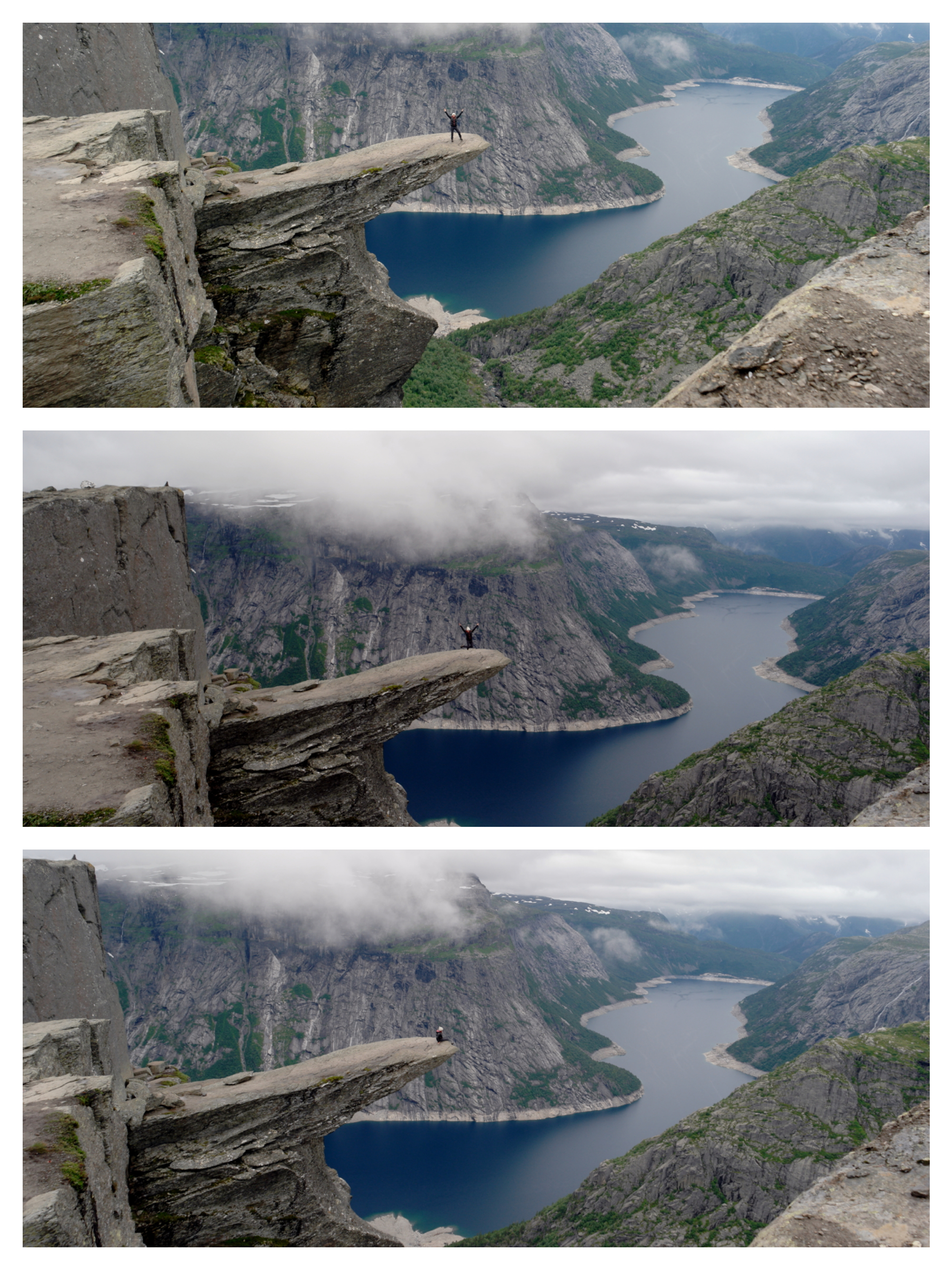 I even had time to set up the tripod, which I'd lugged all the way up the mountain (you know, for those epic sunset timelapses we were going to get…urgh!)
[Timelapse videos coming soon!] 
After the relief of getting some photos that showed we'd actually been there, we were in good spirits, so got ourselves prepared to take the long way down.
As the crowds walked north we headed off south, the only people on the path. The fog was very thick and we could barely see 20 metres ahead. After about 1.5km we met our first minor hurdle of the day. The path seemingly went straight on…or there was an option of a steep ascent up a snow covered mountain. The visibility (or lack of it) meant it was impossible to see whether there were any cairns and where the path went.
As I was fiddling around with bearings and checking out paths, a group of Ukrainian and Russian hikers came along and confidently started up the snow covered mountain. This was my least preferred option….not least because when selling the hike to the girls, Maddie specifically stated she would do it, 'as long as we don't have to cross any snow'. I'd assured her it would be fine…and here we were, half an hour into a ten hour hike, having to ascend a snow covered path. It'll be an adventure I smiled at her and we started up the path.
The next few kms were very tough. The visibility was extremely poor and navigation was hard. I'm not a bad navigator, but I'm cautious and I do generally prefer navigating with at least a few landmarks. There was nothing, I was on bearings from cairn to cairn. So progress was slow and we made some small diversions from the path (read: wrong turns). There is something about fog that just saps morale. Here we were, having taken over 90 minutes to travel 3k, with very little to see and the prospect of a full day of this looking pretty depressing. It's pretty tough to keep positive when you've sold something on its epicness, and it's very quickly turning into type two fun.
I tried to reassure the girls it would be fine and I knew what I was doing, only to have it quickly undermined by the (not) helpful leader of the group we'd just caught up with. 'Navigating with just a map? That's brave.' As he gleefully rubbed his shiny GPS. Meh, surely that's cheating?
Anyway, as we hit 4k the fog started to lift and suddenly we could see the lines of cairns with red Ts on them marking our path. Navigating became a lot simpler and we started making much better progress, our spirits lifting considerably. He could stuff his GPS…!
The scenery was stunning, and apart from the group we passed only 3 other sets of people the whole day. A different world from the main Trolltunga hike. There were some great things to see along the way – some very cool dams and cute little bivouacs.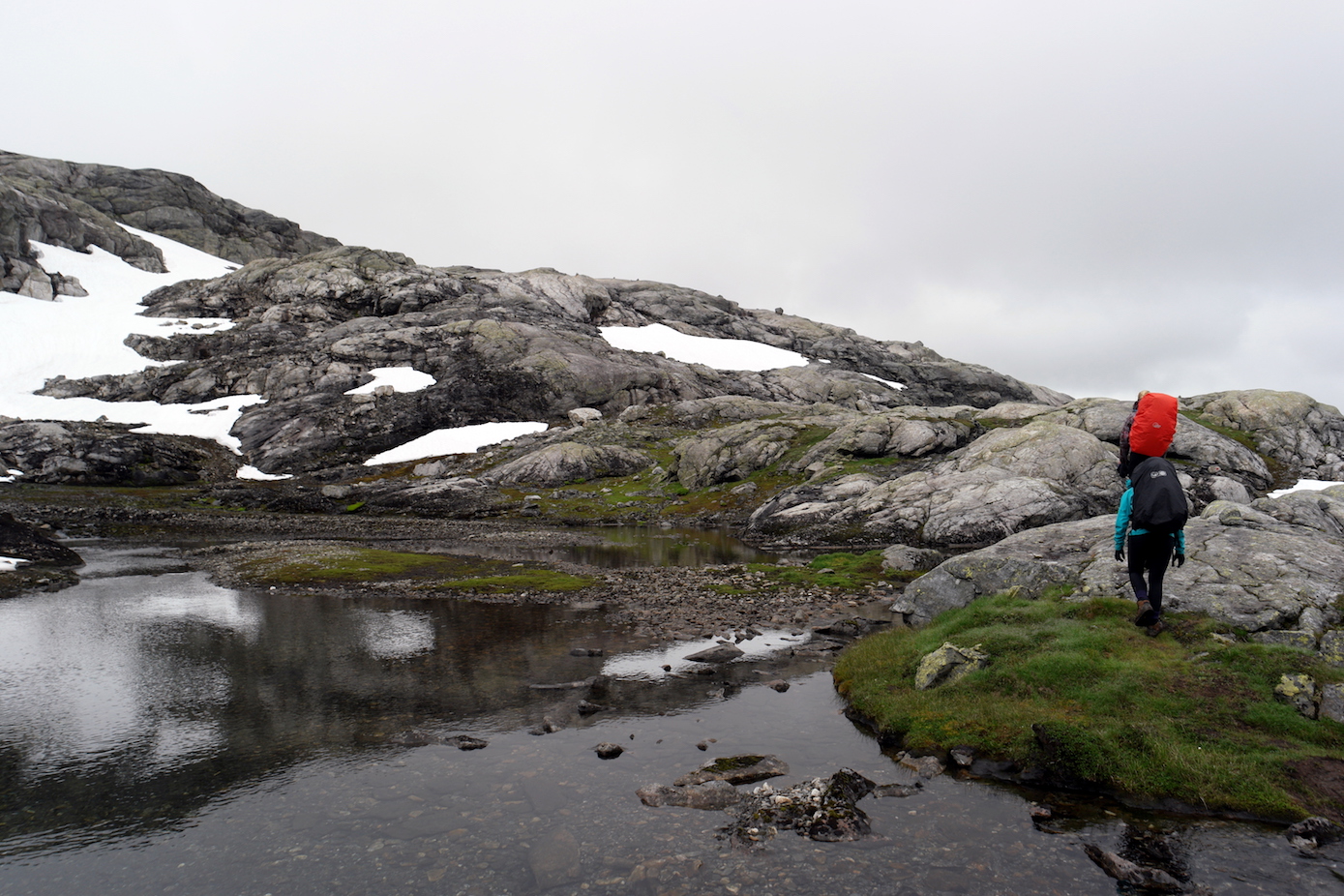 After 19km of hiking we reached Mosdalsbu Hut at about 6pm. Knowing we had a 5k hike still to go down to the road, to then get the bus back down to the car park, I suggested we sat at the hut and refuel a bit to make sure we had the energy we needed. There was also a minor issue of a 1.5k section along a road that I had so far neglected to mention to the girls…we'd cross that bridge when we came to it…
Then, as we sat munching the last of our protein bars, out of nowhere appeared Alexander. Our Nordic Mountain Angel. He was out checking cabins for the Norwegian parks authority, and seemed very surprised to see four weary-looking girls sat at his cabin. He asked where we'd come from and looked suitably impressed with our efforts. I asked about the last bit down to the road, and he said he was going that way and could take us down if we didn't mind waiting for him to check the cabin. I looked at the girls – no navigating and being accompanied by an attractive Norwegian man (so I was told – I obviously hadn't noticed…!) – we were happy to wait!
He sealed the deal by chucking us a massive bar of chocolate to share. This and the addition of a new chatting partner massively picked up our spirits and we made good time down the mountain. We reached the bottom and Alexander offered to drive us along the road back all the way to our car (saving us the 1.5k walk on the road, at least an hour and £20 worth of bus tickets!). He then secured legend status by pulling out a celebratory can of beer for us to share. Norwegians are amazing.
So – if you want to see Trolltunga in a slightly different way I would really recommend this hike, but there are a few things to think about:
the 2nd day was 23k and 850m of ascent taking us 10hours. It would have been longer without the lift from Alexander at the end. Basically it's a long old day. We were a group of four physically fit girls, all comfortable running a half marathon distance. You do need to be good with endurance and carrying a heavy load for two days.

a more logical approach would be to not stay at Trolltunga on day 1 (say if you'd already got the awesome photos!) and go further on day one (rather than the 11k) making a shorter day 2.

a map and compass is essential (where you wouldn't need it for just the normal Trolltunga hike). Buy one from Norli in Bergen.

there are at least 6 snow fields you need to cross. These were absolutely fine, but it does require a slightly more adventurous outlook.

navigating was really difficult in the fog (as it is anywhere). Normal mountain common sense is needed, don't go in really poor weather and don't do anything you don't feel comfortable with.